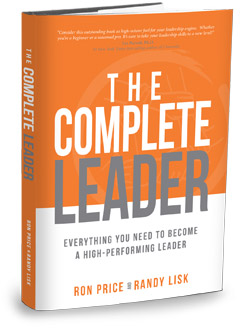 The Complete Leader
Everything You Need to Become a High-Performing Leader
"The Complete Leader" —the companion piece to the website and assessments. "The Complete Leader" is available in print, eBook and audiobook.
You Are Almost There
You have the formal education, the experience and maybe even the title. Yet you crave additional development of your leadership skills—not just another business book or workshop, but something practical, actionable and real world. The Complete Leader is for you.
Executive coaches Ron Price and Randy Lisk combine experiences and tools gleaned from decades working with leaders from Fortune 100 companies to small businesses to present twenty-five modules in The Complete Leader. Each skill is organized around the four qualities necessary for leadership excellence:
Clear thinking in an increasingly complex world
Leading yourself to develop strong teams and results without excuses
Leading others through transcending results to achieve lasting impact
Authenticity in who you are and who you want to become
Presented in a way that is both customizable and scalable, each leadership competency utilizes practical tools for defining, practicing and becoming the greatest version of yourself.
Leadership excellence is not a hike; it's an expedition. The Complete Leader is the most comprehensive and practical set of leadership tools available for the journey. This combination of book, assessments and website round out a robust program designed for today's established executives and tomorrow's emerging leaders.
Email The Complete Leader Store for discounts on volume purchases.
Praise for "The Complete Leader"
"You might wonder why, as a parable writer who seldom concentrates on more than two or three 'secrets' at once, I would endorse The Complete Leader—a book that essentially teaches you everything you need to become a high performing leader. This book can serve as your own leadership curriculum as you work on the competencies you need to be an effective leader. You'll take the self assessment in the back of the book, decide which of the twenty-five leadership competencies you need help on, and then go to the appropriate chapter. Thanks, Ron and Randy, for putting all this valuable information in one place."
- Ken Blanchard, coauthor of "The One Minute Manager®" and "Leading at a Higher Level"
"No two people understand leadership better than Ron Price and Randy Lisk. They have been leading, teaching and coaching others to lead for years. Now, they have given us the complete guide. What a gift! Full of practical insights and terrific coaching, The Complete Leader will alter the performance of leaders worldwide."
- John Hersey, President
TTI Success Insights North America,
Author of "Creating Contagious Leadership"
"In 25 years leading teams with different cultures, I have never encountered a book about leadership that puts the concept in such realistic and pragmatic way. It is highly beneficial that these concepts come from leaders like Ron and Randy, who have led organizations and have been able to connect the concepts with real-world experiences."
- Jose Francisco (Paco) Ortiz Collado, Senior Vice President & General Manager | Zoetis Brazil
"Leadership is an exhilarating, gut wrenching, often breathtaking journey that demands changing skills and lifelong learning. Ron and Randy have just provided a roadmap that should be a well worn reference on every leader's bookshelf."
-Jeff Sayer, Director Idaho Dept of Commerce
Potluck Culture: Five Strategies to Engage the Modern Workplace
By Ranjit Nair, PhD
Potluck Culture is a powerful handbook for cultivating a collaborative workplace based on respectful dialogue and constructive feedback, where employees have deep trust in management, are shown gratitude for their contributions, and are aligned to and engaged in their company's success. As a leader, you have the ability to significantly shift your company's culture and create high-performing teams but only if you understand the factors that give people satisfaction in their work and the environment that makes it happen.
Introvert Revolution
Leading Authentically in a World That Says You Can't
By Andy Johnson
Introvert Revolution confronts the cultural myth that extroversion is the only version of leadership, helping you grow more into the authentic leader you were meant to become. To be real, to be vulnerable, to be authentic is to let your true self be seen and known, to no longer hide as shame wants you to, but to dare greatly, to be courageous. This is the kind of authenticity we as introverted leaders need to pursue, not just for ourselves but for those we lead and serve. Get to know yourself better as an introvert and understand the biological differences that make you the way you are. Join the journey toward personal growth and self-acceptance. Learn how to become a more effective leader, doing so authentically and in harmony with the extroverted leaders around you.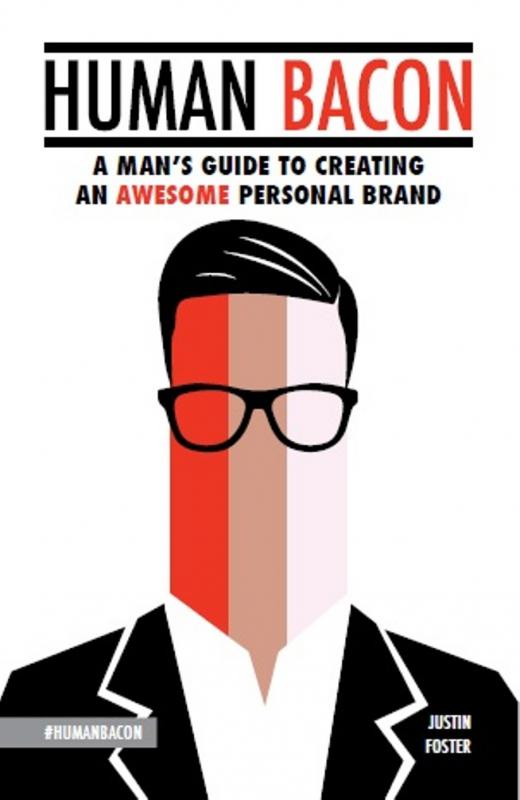 Human Bacon
A Man's Guide to Creating an Awesome Personal Brand
By Justin Foster
In "Human Bacon," Justin applies the Bacon principle to personal brands - identifying seven specific traits that are common with interesting, connected, and respected people. While directed at men over 40, the elements of "Human Bacon" are universal for anyone interested in being awesome, satisfied, and successful. Blending experiences of his personal journey with practical tools and exercises, Justin provides an outline for finding your talent, being authentic, embracing technology, communicating effectively.
Pushing Back Entropy
Moving Teams from Conflict to Health
By Andy Johnson
According to the universal principle of entropy, conflict, the destructive kind, happens.  Doing nothing to prevent it will likely result in its eventual presence among your team.  In addition, healthy teams work together not only to prevent conflict but also to actively cultivate team health and all that comes from it.  In this "handbook," find useful models for both conflict prevention and team health (along with three useful and clear appendices describing the sciences of behavioral style, motivators and emotional intelligence).  This is the ideal book to use as a common reference for your team development.
Working in Sync
How Eleven Dartmouth Athletes Propelled Their College Sports Experience into Professional Excellence
By Whit Mitchell with the members of the Class of '86 Crew
Eleven highly successful professionals learned the principles of connection and teamwork on the Dartmouth Class of '86 crew. Years later, the lessons learned have had a profound impact on their lives and the lives of those around them. Meet the crew whose stories will change everything about the way you do business and lead your team.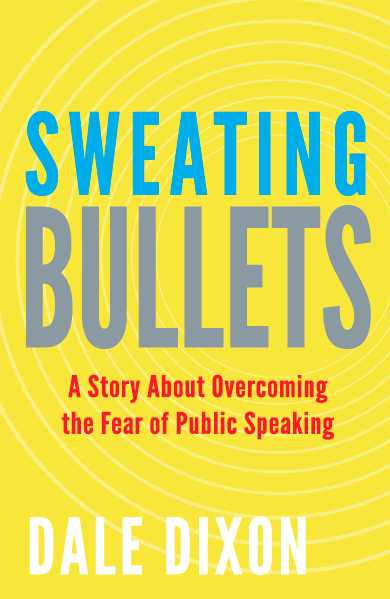 Sweating Bullets
A Story About Overcoming the Fear of Public Speaking
By Dale Dixon
You have what it takes to overcome the fear of public speaking. Your hidden talent is your gift of communication. Sharing in a sales call with a new client, interviewing for a job, presenting in a board meeting or in front of an audience of strangers whether with two, twenty, two hundred, or two thousand they are all high-stakes communication platforms. How can you be authentically you in these circumstances? Learn through the power of a story.
Treasure Inside
23 Unexpected Principles That Activate Greatness
By Ron Price
Inspirational, practical, and thought provoking, Treasure Inside's true value is in helping you recognize that these great treasures reside within you. In the process of discovering them, you are engaging the greatest pursuit of all: embracing your own highest potential. Treasure Inside can be a catalyst for leading a life extraordinary.
Oatmeal v Bacon
How to Differentiate in a Generic World
By Justin Foster
Humorous, thought-provoking and full of useful ideas, Oatmeal v Bacon will transform the way you market and advertise, develop products, create customer experiences, and build a culture.
Bumper Sticker Leadership
One-Liner Wisdom on Life and Business
By Randy Lisk
For years, bumper stickers have provided an effective way to convey complex ideas in few simple words. Your leadership team will have discussion topics, tweets and articles ideas for months and years to come.