By Whit Mitchell
As a CEO, director or manager within your organization, what percent of your time each week, month, quarter, even year do you spend dealing with behavioral issues or communication problems?
How often do you drive home from work in a good mood, feeling content with your day? I'd be willing to bet that a satisfying day at work has more to do with the behaviors of those around you than it does with their skills. And the opposite is true when you've had a bad day. 
So if my theory—along with 30 years of coaching and observations—is correct, it would be of high value to create environments where behaviors compliment the skills needed in certain positions. What does it cost your company each year to deal with poor behaviors and ineffective communication methods? We seem to spend too much time and money hiring for skills and expertise, and then a behavior walks through the door.
Would you rather hire an individual with great people skills, who is effective at communicating and leading others, but lacks some of the skills required for the job? 
Or would you rather hire an expert in the field who has trouble working with others, is demanding, and lacks the empathy to understand his direct reports?
Recently I worked with a leader and eight members of his team. I was informed that the leader, Fred, was bright yet arrogant, dismissive, close-minded, unaware of his impact on others and had trouble working with women. Two of the key women on his team had just resigned. I was asked to come in and "fix him" or he would be fired.
When working with leaders, I ask them to complete a series of psychometric instruments measuring behaviors, workplace motivators, acumen and 25 leadership competencies.
The behavioral instrument (one of the four) that has proved to be the most valuable in my coaching is called the DISC. DISC measures four dimensions of behaviors. Sure enough, it confirmed that Fred comes across in his communication style as demanding, competitive and direct with a sense of urgency. His role as the director of sales required that his team meet their quota each month and at the present his team was 38th out of 40th in sales within the company.
I asked each team member to complete the DISC so I could help Fred learn how to behave and communicate more effectively with them. I spent time one-on-one with each team member, helping them to increase their own self-awareness while also showing them Fred's DISC results to help them learn how to work and communicate most effectively with him. Each person picked one behavior to master over the next nine months. I checked in monthly with each team member to measure their progress and Fred's progress.
Here was the secret sauce to improvement for Fred and his team: 
1. Teach Fred to read the DISC graph of each of his direct reports. 
2. Help the team to learn tips for effective communication with each other. 
3. Encourage Fred to share his DISC graphs with his direct reports, as well as tips for communicating with him.
I measured these five attributes of their work environment before and after my work with Fred and his team. Here are the results after nine months of working with Fred and each of his team members: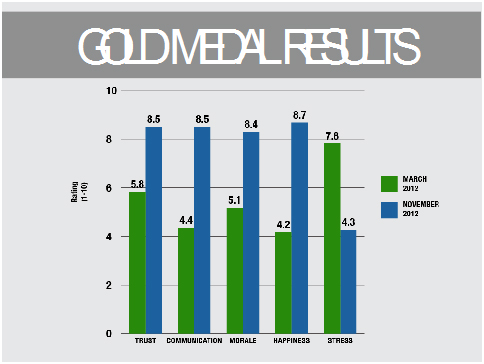 Fred's team went from #38 in sales to #2 in sales in nine months. Each person changed and mastered one behavior. No one left the team, and Fred was promoted to a higher-level position within a year after our work together. When Fred's replacement arrived, he had a high-functioning team that was willing to listen to new ideas, adapt to his new leadership style, and continue to perform at a high-level of performance.
I attribute much of their success to becoming more self-aware in order to make the behavioral changes for the success of the team and the organization. DISC played a large part in this story.
Why use the DISC instrument?
Simple to understand and very practical to use.
Can speed up the process of learning how to communicate and how to work more effectively with peers, direct reports, leaders and clients.
Incredibly effective when used as part of the hiring and onboarding process.
Mediation tool for two employees who need to work better together.
Low cost to administer, yet high value to organizations.