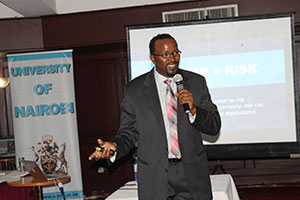 Last month Price Associates team member Dr. Evans Baiya travelled to Africa to present at Nairobi Innovation Week. In its second year, the event was well attended and full of innovation and inspiration. We sat down with Dr. Baiya to learn more. 
1. What is Nairobi Innovation Week?
Nairobi Innovation Week is the premier innovation event in East Africa. It is hosted by University of Nairobi, which is located in Kenya's capital. University of Nairobi is the largest public university in the region. Innovation week was birthed as a way to showcase the many inventions from the University and how they impact society, industry, and academia. It is an annual event, which was first held in August 2015, and the second was held in August 2016. The third one will be held in March 2017.
2. How did you get involved?
I have been involved in the Nairobi Innovation Week since its conception in early 2015. My initial involvement was an official visit with the Deputy Vice Chancellor of Research, Prof Lucy Irungu, and her staff in early 2015 to discuss commercialization of research and return of investment for the university. During this meeting, she mentioned that she was spearheading an initiative to grow the innovation agenda at the university and beyond. They invited me to participate in the inaugural event. 
During the 2015 event, I participated in nine panels including leading a very engaging panel on commercialization of research. This panel had innovation experts from the U.S., Israel, academia, government, entrepreneurs, and the technology industry. Based on the feedback, commercialization of research was identified as a foundational topic of the event.
3. What was your goal in attending and presenting this year?
There were two goals for attending the 2016 event: delivering the only 2-day preconference workshop on the commercialization of research; and creating momentum around the topic among academia, industry, government, international participants, and individual inventors. Commercialization of research is critical in creating innovation pipelines, which will eventually lead to solving critical local problems and impacting the society and the world positively.
4. What was your favorite part of the week?
During the Innovation Week, there are many activities going on: preconference workshops, special speaker breakfast forums, key government-university presentations, cross-university/high school innovation exhibitions, paper/poster sessions, innovation judging, panel discussions, media interviews, networking events, and more. There is always a surprise.
It is impossible to participate in or even attend most of them. Besides the workshop, this year I was only able to participate in the panel discussions, visit the innovation exhibitions, and do some media interviews. 
My favorite was spending time with the attendees of my workshop. There were many rich conversations, but most importantly every attendee left with a personal plan for implementing some of the key concepts we discussed, regardless of their positions or journey in the innovation continuum. Another favorite part of the event is meeting local and international leaders in research, innovation, industry, as well as advocates of research as a way to improve people's lives.
This year's surprise was that Kenyan President Uhuru Kenyatta, who was not initially expected attend to the event, confirmed last minute and inaugurated the opening session of this year's event. This is quite an honor since Innovation Week is only in its second year. The Head of State's attendance and commitment to innovation is further evidence how important innovation is as a national agenda and to him personally.
5. How many people attended the event?
Nairobi Innovation Week was attended by over 2,000 people who were dispersed at the different venues at any given time. The commercialization of innovation workshop was limited to 40 people, and we had 27-35 attendees for the full two days (some were in and out). The participants of the workshops included senior researchers (in agriculture, food science, nuclear engineering, life sciences, architecture, and more), university management (several universities were represented), government scientists and policy makers, industry leaders and R&D managers, students, and international experts in various areas of innovation.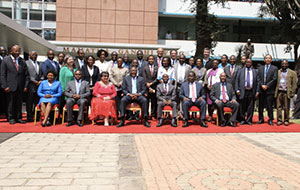 6. What do you think were the some of the key takeaways from your presentations?
At the end of the sessions, we had each of the attendees identify up to three lessons, and up-to two actions they were going to work on. This is a big moment since most of them had more than three lessons, but most importantly, they were able to clearly describe their goals. There were clear takeaways from the two-day interactions:
      a)  There is a big need to educate researchers on why and how to take research beyond their labs, making it useful to others, and eventually having an impact in society.
      b)  Researchers and research commercialization leaders need a methodology to create an innovation pathway that addresses this question, "Now that I have an idea, where do I go from here?"
      c)  Researchers need scalable, personalized process and contextual tools to take inventions to innovations.
      d)  Opportunity exists to develop expertise, content and services since commercialization of research as a university and national/regional agenda is still at its infancy. 
      e)  There needs to be a deeper understanding of the impact of people on the success commercialization of innovations. This is consistent with the ongoing work that shows that placement of people with                the right tools and processes correctly in the right stage of the innovation process has a much larger impact on the innovations success than previously thought and published. Thus the book that I am              currently co-authoring with Ron Price: The Innovator's Advantage.