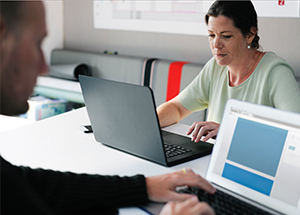 by Whit Mitchell
Ask any top athlete—or a top performer in any field for that matter—and they will tell you that they couldn't have reached their peak without a coach. Whether the relationship is formal or casual, people who accomplish great things typically have someone in their corner who helped them get there.
Having a coach gives you a different perspective that you can't get on your own. They can see you and your goals from the lens of their experience, and the tools they give you can help you reach your goals more effectively.  
Here are six benefits of having a coach:
Accountability. People often need others to hold them accountable. When I coach clients, we set up accountability systems that are either simple or complex, depending on their needs. During our check-in calls and conversations, I ask them how they are doing on the goals they have set, and we measure and reassess as needed. Knowing that you have someone who is going to check on your progress gives you an extra incentive to accomplish those goals. The ultimate goal is to be able to hold yourself accountable, but you will really start to see results when you work with a coach to create commitments with accountability measures that are met on a regular basis.
Honest Feedback. There is immense value in the opinion of somebody who is on your side and who cares about your development. A coach who is willing to give you true feedback about what you are good at and tips to neutralize your shortcomings is priceless. Sometimes it's hard to recognize our own talents, and harder still to see our weaknesses for what they are.
Neutral Ground. A coach can help you get honest feedback from your employees, managers and other colleagues. They become a safe sounding board for these people to get their perspective without them feeling intimidated. By providing a chance for anonymous feedback, you will receive very specific and clear observations about what it is like to work with you and how you can improve. Not only that, but your employees and colleagues will feel valued when their opinions are heard and when they see you making improvements based upon their comments.
New Perspective. A coach gives you a window to look at yourself and the ability to see your blind spots. You've been in your body and living your story for years, which can make you less aware of circumstances and reactions that have become habit. But a coach can come in and see aspects that you're unaware of. They can identify the fly in the soup that you don't see, and they help you get perspective from a very skilled place. A coach can look at your situation and feedback from your colleagues, and be able to see common themes.
Bridge the Gap. When I work with client, we start with work concerns, but many times the conversation turns to home life. Because issues at work and at home are often intertwined, a great coach can shed light in both realms as a connoisseur of questions. Therapists look at the past, and coaches look at the future. Coaches can help you think differently about how it all ties in together.
A Confidant. A coach is a safe ground for sharing anything you want to release about any part of your life. Having a trusted and neutral confidant allows you to voice opinions and concerns that you might not be able to share with anyone else. A coach is a non-judgmental sounding board. When you feel safe, you can let it all out, admitting to your mistakes and identifying how to reach your goals.
To learn more about Whit and his coaching style, click this link. To talk to Whit about coaching, email him at whit@workinginsync.com.