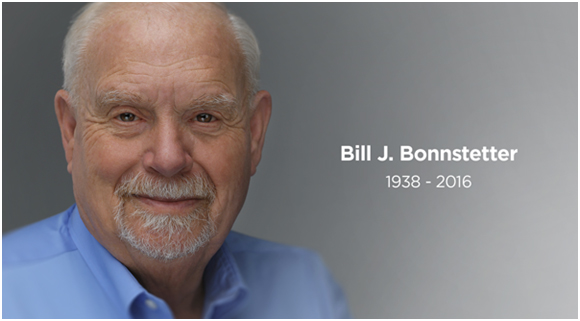 By Ron Price
Bill Bonnstetter, the co-founder and driving force behind TTI Success Insights, passed away on June 2, 2016 after a short battle against cancer.  Since its founding in 1984, TTI Success Insights has grown from a small town Iowa business to a global giant in the field of self-administered talent assessments.  Today, a new assessment is completed every 7 seconds and delivered to one of 90 countries in one of over 40 languages.  More than 25 million people have completed a TTI Success Insights talent assessment.  And it all began with two people: Bill Bonnstetter and his son, Dave.
I first met Bill in January 2004.  I had used his products in my previous executive role as President at AIM International.  We were just getting familiar with the benefits of Bill's products when I retired in 2000.  I caught a glimpse of how understanding a person's behavioral traits and underlying workplace motivators could improve relationships and accelerate business results.  After taking some time off and trying my hand at another business, I decided to travel to Scottsdale, Arizona in January 2004 to learn more about the products, values and services offered by TTI.  
As far as Bill was aware, I was nobody—someone attending his annual winter conference, probably without any particular traits or accomplishments worthy of his attention.  But this wasn't Bill.  He immediately accepted my request to have breakfast while there.  Though he was the epitome of an extrovert who could have spent his time telling me about his great business achievements, he connected with what was important to me immediately.  He encouraged me to think big and to look for how I might connect TTI products with my own sense of purpose in life.  He finished our first one-on-one meeting with a phrase that still speaks to me today: "Ron, doing something is better than doing nothing."  (He later admitted, "Doing something is ALMOST always better than doing nothing".)
In his own way, Bill was larger than life.  He always greeted me with a smile and firm handshake.  He had a knack for saying something that was encouraging, yet challenging at the same time.  And he always pointed me to a higher purpose.  His mantra in business was, "We are here to help people understand themselves, to recognize the differences in others, and to learn to love those differences in business and life."
It is difficult to grasp how much impact Bill has had for so many.  Of course, none of us accomplishes much of significance alone.  He dream was fulfilled with the support of his family, the TTI staff, the master distributors who steward his products around the world, the thousands of professionals who use his products in their coaching, training, selection and consulting businesses, and the millions of people who have completed an on-line TTI talent profile over the last 32 years. However, it all started with Bill.  Sir, you did it.  "A life well lived."  Most importantly, a life that has improved millions of other lives along the way. We miss you, Bill.